I know what you are thinking; "what is fun about Monday?". Well, if we can't think of anything else let's just be glad that we got out of the bed this morning, right?
Let's have a little fun today and while we do I will share a few pictures of my life with you.
I have had this collection of devotional books for years and love them.
Let's kick off with the 2018 Color scheme for women's clothing according to the Huntington Post.
Web image
It looks as though Spring will be bringing the above colors to life from what I have read. Just because inquiring minds want to know, what color scheme do you find yourself most often purchasing regardless of what season you are in?
I often purchase black, red and beige. Of course my best friend has said for years, "buy a pair of black dress pants and then you can buy lots of different tops to go with them". TRUE! However, I do try to expand out there a little....I actually got wild here recently and bought a cotton candy pink top. I mean it looked cute hanging up. It was on sale for like really cheap. I looked like a daggum piece of bubble gum that had turned sour! I donated it to a clothing ministry. LOL!
This is a good little breakfast for me. They make different flavors.Try them if you haven't already.
According to Huntington Post The 2018 Home Decor trends that are on the radar are:
Ruby Red's in paint as well as decor.
Velvet....yes, velvet furniture is making a come back.
Copper accents
Black and white
70's Chic
Natural materials such as
lava rock and sea shells.
Windowpane styled throw blankets.
Floral patterns with bold colors or funky colors.
Wabi Sabi aka Imperfection and the only way I can describe this is to show you a picture.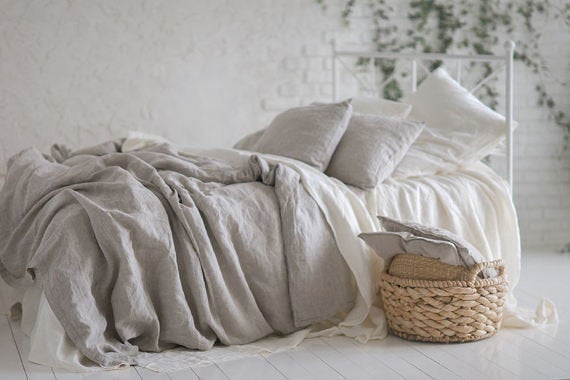 The Japanese concept of wabi sabi celebrates imperfection, It's expected to catch like wildfire in 2018. It's all about authenticity, including honesty of materials like flax cover. Consider this permission to leave your bed unmade was the quote.
So, with the last tidbit about wabi sabi and the quote, what are your personal feelings about leaving your bed unmade?
I was raised by a granny that said, "If you don't do anything else in your house you make your bed each morning. At least you will feel that you have done something and your home will have a sense of being together. That has always stuck with me. For me, if my bed is not made it's because I am in it or I am sick and bouncing from bed, to couch to chair to bed. It's just a "thang" with me.
Don't you just love my cute new boots?
Since Christmas is a mere 11 more months away here's the stats from 2017 according to Yesmail Interactive on when people actually started Christmas shopping.
38.1% of people started their Christmas shopping before November 1 with 69.8% of people starting their Christmas shopping before the December 1.
When do you usually begin your Christmas shopping?
Usually before Thanksgiving I have started and I am finished by the 2nd weekend of December. This year I did find myself a week before Christmas picking up a few things but nothing that I had to fight the crowd for. Back in my younger days when I had more energy, my Christmas was bought and wrapped before Thanksgiving. This year I actually enjoyed ordering some things online so when I did do a shopping trip I enjoyed it instead of feeling like I was on a mission and couldn't stop till the mission was completed.
I am really enjoying this devotional book I was gifted as a Christmas gift.
Did you know that laughing burns 6 calories? Laughing is jogging for your insides. It increases heart rate, circulation, stimulates the immune system and improves muscle tone of the abdomen.
Speaking of laughter, has there been a time that you found yourself laughing when you shouldn't have been laughing?
Oh yes, on several occasions. One time in particular was years ago but I will never forget it. I got tickled at a funeral. I won't share why I got tickled but I did. I know, that's sad isn't it? I hate almost to even admit that. Most thought that I was crying instead of laughing. PRAISE GOD! Yeah, I know some of you by now are just shaking your head at me and saying, "Bless her Lord".
Love watching my grandson play basketball.
Last one:
Recently while ministering to a lady that struggles with low self esteem one of the things that I asked her to do was to name at least one thing about herself that she did like. Though she hesitated and truly seemed to struggle for a bit with this she finally named one thing. Then that led to several more things in which led us to truly getting into some matters of the heart in which I will not elaborate on. It seems that we as women tend to dislike more about ourselves than we like. So, I am asking you dear lady, "What is one thing that you do like about yourself?. Don't be modest or shy. The thing I am learning the older I get is that I am what I am! There's some things, well a lot of things that I can do something about when it comes to the things I dislike about myself. However, there's lots of things that I dislike about myself that I can't do anything about and it was just how God created me. So when I complain I feel like I am saying, Lord, You done a crappy job". I am not positive but I'm thinking that attitude doesn't make Him too happy either. After all, He is the master designer.
So with saying all that I will say that I like my hair! Now don't get me wrong, I have some major bad hair days! Matter of fact I am having one today. I need a hair cut and some color. I am just before taking the scissors to my hair and I have done that in the past and it was not a pretty site! In all seriousness I was blessed to take after my granny, my mama and my daddy in which all had thick hair and easy to manage. Even on a bad hair day like today when I think about watching dear friends that due to chemo have lost their hair, it reminds me to HUSH and be thankful.
It sorta reminds me of a story a friend shared. She used to complain about her shoes and her mama told her a story of a boy with no feet! She learned to appreciate her shoes. I've learned to love my hair....even on a bad hair day.
I hope that you all enjoy your week and remember,
"Your time is limited, so don't waste it living someone else´s life, live your life, the one that God intended on you living".
Hugs and blessings, Cindy